Portfolio: University of kentucky fan base
Collage Fan Base is a news mobile app built by Website Jungle for sports fans of University of Kentucky, one of the biggest names in college sports.

Sports fans love this app as it aggregates news from several major mainstream news agencies as well as from blogs and other non-traditional sources.

In order to provide real-time and engaging news articles, this app was built with the latest web & mobile technologies. This includes WordPress Content Management System where the news articles are posted. REST & JSON API was integrated as the pipeline that enables the flow of news to the mobile app.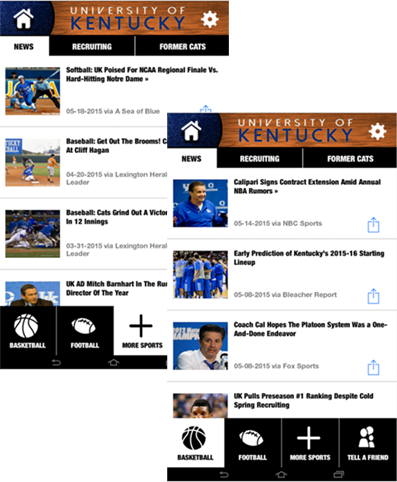 HIGHLIGHTS
iPhone and Android Mobile App
Wireframing
User Interface and User Experience Design
Built-in app browser
Notifications and Alerts